Objective
To expose the participants to a variety of processes, dry & wet color mediums, materials, techniques, tools, and technologies, which covers various subjects, which will help the participant to develop –
the creative abilities i.e. drawing from imagination and memory without using any reference picture.
the artistic skills i.e. replication skills using reference pictures.
Along with the course, the interested participants can also create their visual art portfolio.
Audience
Children age 7+, hobbyists, adults, and professionals who want to pursue their career in design and visual art such as NID, NIFT, and Architect etc., or want to draw like a pro.
Perquisites
Check students' portfolios, teaching methodology, and FAQs on Art Education web page.
Scope
Fundamentals of visual art: Elements & basic forms, modification of basic forms, light & shadow, value & texture, principal of design & composition, space & perspective, freehand drawing vs grid technique, drawing from reference as well as from memory, calligraphy, sketch & draw an object from still life and nature, i.e. organic & inorganic objects, using graphite and charcoal pencils.
Introduction to human anatomy: Male and female face, front & back of torso, arms & hands, legs & feet, dynamics of face & human anatomy, drapery, and dress.
Introduction to mediums: Color theory, techniques of dry and wet mediums such as graphite, charcoal, acrylic color, watercolor, oil color, soft pastel color & pencil color, and finally create artworks covering various subjects such as portrait, landscape, cityscape, floral and drawing from still life, abstract art, and mandala design etc.
For timelines and detailed scope of the course, visit Professional Visual Art Course Details. Depending upon the participant's requirements, the course can be tailor-made which will also impact the timelines. Below is the overview of the complete visual art course at Shanky Studio –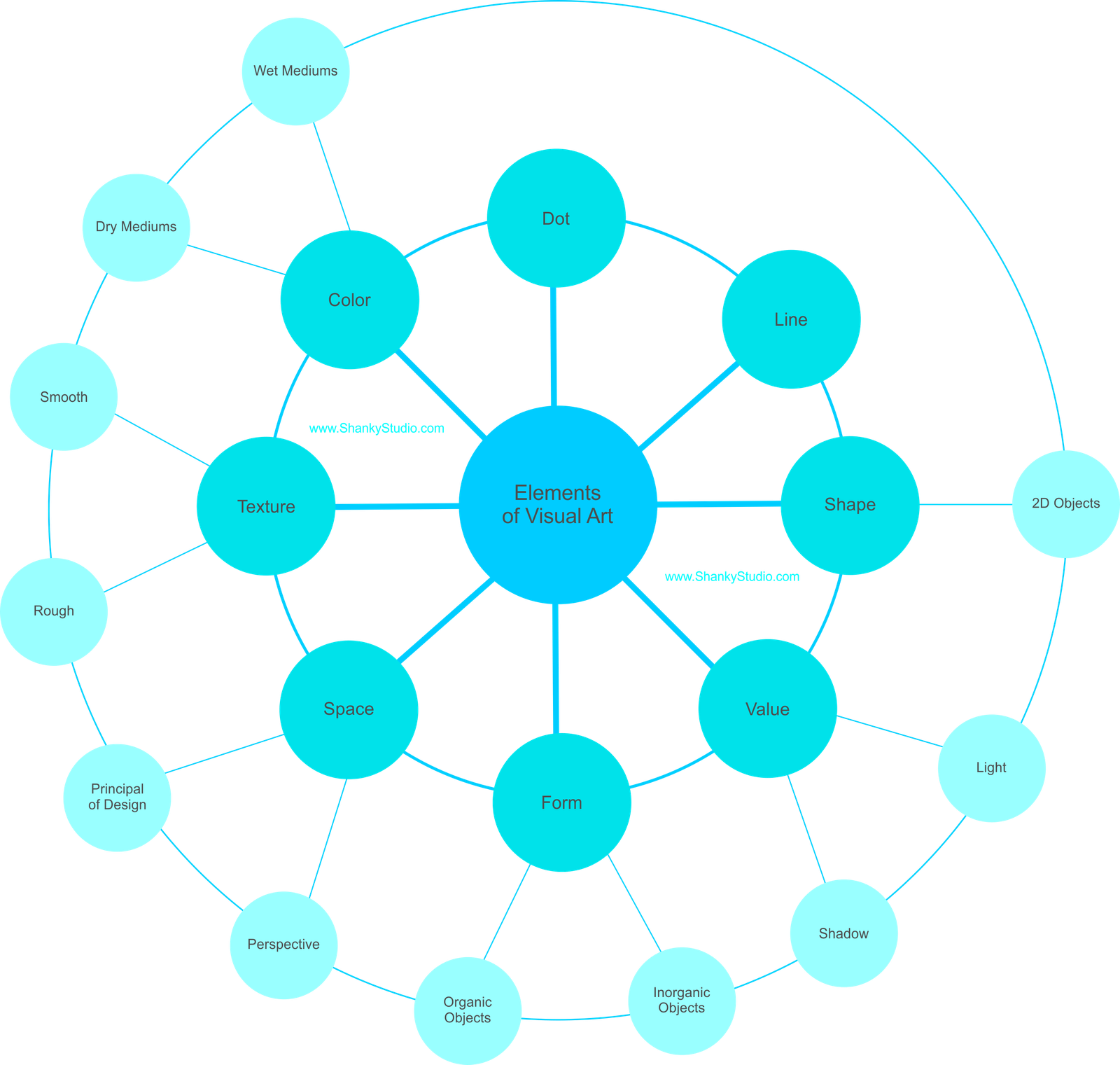 Duration
Approximately 50 to 60 hours of classroom time, spread across 12 months, which further depends upon the time spent by the participant on the home assignments. After completing the above scope, the participant may continue with more advanced topics and engage in creating a professional-level artist portfolio.
Classroom
4 sessions per month, where each session is for 1+ hour, at a mutually agreed day and time.
Home Assignments & Doubt Clearing Sessions
The home assignments and the related reference pictures will be shared after each classroom session. Home assignments and self-practice are critical for the success of the course and will tentatively consume triple the classroom time. Prior to the next class, the participant will have regular interaction, along with additional doubt-clearing sessions, in between the week. The participant will submit the practice sheets, and the faculty will evaluate the submitted sheets, and suggest the area of improvement for the participant to act upon.